1. U.S. Stocks
1.1 Commission


Note: Stocks include Stocks, ETFs and ETNs.
1.2 Platform Fees

Note: *Promotion begins on Nov 2018 and may end at anytime with 30 days notification ahead.
1.3 Regulatory Fees

Note: All the transactions which have an effective settlement date of February 25, 2021 or later will have the SEC fee rate "$0.0000051 * transaction amount, min $0.01" applied.
1. 4 US Corporate Action

2. Options
2.1 Trading Fees

2.2 Platform Fees

2.3 Regulatory Fees

Notes:

1. The Options Regulatory Fee (ORF) is a pass-through fee that the OCC collects from clearing members. As is standard industry practice, these fees are passed from the clearing broker to Futu to end clients.
2. The OCC fees are fees charged by the OCC to its members. Like the ORF, these fees are passed through from the clearing broker to Futu to Futu's clients
3. The exchange fees referenced on Futu's fee schedule and on trade confirmations are fees charged by the exchanges where the options was executed. These fees vary depending on a broker's exchange memberships and are difficult to ascertain promptly. For that reason, Futu like other broker-dealers, used a blended rate that equals or slightly exceed the amount charged by the options exchanges.
4. Effective 07/23/2021, Futu will discontinue charging "exchange fees" and will institute a fee of $0.65 per option contract.
3. Hong Kong Stocks
3.1 Commission

3.2 Platform Fees

3.3 Regulatory Fees

3.4 HK Corporate Action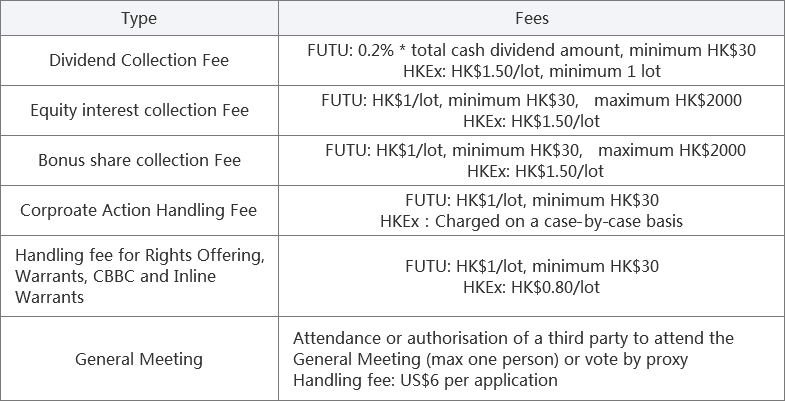 4. China A-shares
4.1 Commission

4.2 Platform Fees

4.3 Regulatory Fees

4.4 China A-Share Corporate Action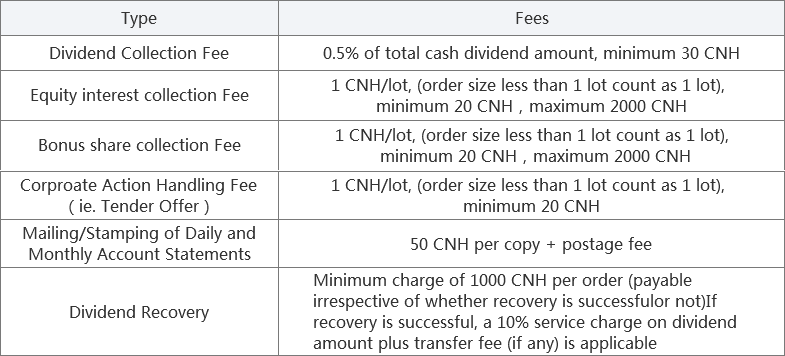 5. Margin Rate

Note: We reserve the right to amend our margin interest rate from time to time in response to changes in prevailing interest rates and other factors. The Margin Rate is subject to change without notice.


6. Service Fees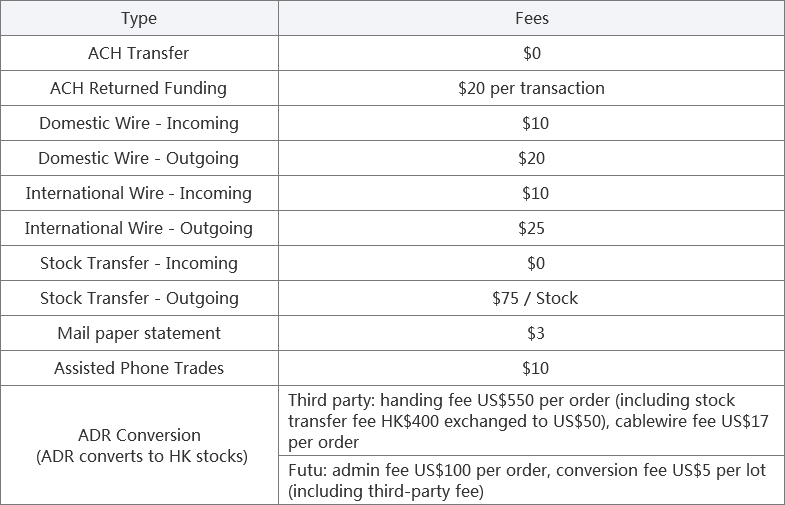 Notes:

1. Additional wire transfer fees charged by any originating, intermediary, or recipient bank may apply.
2. Only DTC Transfer available.
3. Transfer two stocks BABA and APPLE from Futu Inc. to other brokers. The transfer fee is $75 *2 is $150.
4. As of ADR conversion, one lot consists of 100 ADS, and less than one lot is rounded up to one lot.
7. Currency Exchange

Futu Inc charges a fee for converting currencies. The amount of the fee varies depending on the currency and may be up to 300 basis points. Should you have any questions regarding the conversion fee, please email our customer service team.
If you would like to know the fees for Non-U.S. resident, Click here.